Focused Treatment Options


Getting Sober in a 12 Step Program
When it comes to effectively treating drug and alcohol addiction, there are many potential options to choose from. Some people choose to commit to a multi-staged treatment program — one that begins with medical detox, continues with inpatient treatment, and concludes with a personalized aftercare plan. Others forego treatment altogether and go straight for a 12 Step program like Alcoholics Anonymous. Still others go on a medication assisted treatment program, utilizing a harm-reduction prescription like Suboxone or Vivitrol. In many cases, a person will combine several of these treatment options, developing an individualized treatment plan that meets all of their unique clinical needs.
According to the National Institute on Drug Abuse, a combination of the following treatment options has been proven most effective for the treatment of addiction:
Behavioral counseling/individual therapy.
Medication assisted treatment options.
Evaluation and treatment of co-occurring or underlying mental illness.
Ongoing treatment, geared towards preventing relapse.
If you or someone you love has been struggling with a substance use disorder, Immersion Recovery Center is available to help. Our multi-staged recovery program combines all proven treatment methods, ensuring an integrated approach that focuses on physical, mental, emotional, and spiritual healing. Contact us today to learn more.
Principles of Effective Addiction Treatment
The National Institute on Drug Abuse outlines several core principles of effective addiction treatment. In order for sobriety to be maintained once treatment concludes, each of these principles should be thoroughly touched on.
Addiction is a treatable medical condition that impacts cognitive function and behavior. When addiction is treated, it should always be approached as a chronic and relapsing condition that alters the structure and function of the brain.
Treatment programs should almost always begin with a short stay in an inpatient detox center. The symptoms associated with drug and alcohol withdrawal can be life-threatening when left untreated, and intense psychological cravings often lead a person back to drug or alcohol use before the detox process is over. However, it is crucial to note that detox will do very little to prevent relapse when utilized as a standalone treatment option.
Addiction treatment should be an individualized process. No single treatment method is equally as effective for everyone. In order for all areas of a person's life to be adequately addressed, a unique and personalized treatment program should be developed for each individual client.
Treatment for dual diagnosis disorders should be available in residential treatment programs. Many people who struggle with addiction simultaneously struggle with underlying mental health concerns like depression, bipolar disorder, post-traumatic stress disorder, or anxiety.
Treatment options should be accessible to those in need. In order for treatment to be effective it must first be available. Many treatment programs throughout the country (including Immersion Recovery Center) work directly with major health insurance providers in order to ensure our addiction treatment services remain as accessible as possible. There is a greater chance of long-term success when treatment is sought early on, before the substance use disorder develops and becomes severe.
Medication is an important part of a comprehensive treatment plan for many clients, especially those who have been diagnosed with a life-threatening opioid use disorder. MAT is most effective when combined with behavioral therapy and 12 Step program involvement.
Effective addiction treatment options address more than the substance use disorder. In many cases, a person who has been struggling with addiction will be simultaneously suffering from a co-occurring disorder or condition like anxiety, depression, unresolved trauma or behavioral issues. In order for sobriety to be maintained, all issues must be thoroughly and adequately addressed.
It is imperative that a person stays engaged in treatment for an appropriate length of time. Cutting the treatment process short often results in relapse. However, the duration of treatment will vary on a person-to-person basis. Some people might stay engaged in treatment for 30 days while others might stay engaged in treatment for close to 6 months — or longer.
Behavioral therapy is an important component of effective addiction treatment. In many instances a combination of individual, group, and family therapy is utilized.
As treatment progresses, the needs of each individual client will shift. Treatment programs must be adjusted and cater to these changes as they occur. This is part of the reason why individualized care is so important.
Addiction treatment does not need to be sought or voluntary in order to be effective. Because addiction concerns a deep and often unwavering sense of denial, an intervention might be necessary. This is especially true in the case of life-threatening substance use disorders.
It is important for clients to be held accountable throughout the treatment process. Many residential and outpatient treatment centers offer regular drug testing to ensure clients are staying away from mood and mind-altering substances. 12 Step programs offer a beneficial, built-in level of accountability.
Treatment programs should provide healthcare services and resources to those who have been diagnosed with infectious and communicable diseases.
We Are Here For You
Let Us Help You Heal
Our Drug & Alcohol detoxification experience is second to none.
Learn how we can help by speaking with one of our Treatment Advisors today.
What is a 12 Step Program?
12 Step programs are an important component of many integrated and individualized treatment plans. But what is a 12 Step program, and what makes these programs an effective treatment option for drug and alcohol dependence?
12 Step programs are mutual aid fellowships developed by and for people who have been suffering from addiction.
The very first 12 Step program, Alcoholics Anonymous, was developed in the mid-1930. There are countless benefits that go hand-in-hand with such programs, including:
Easily accessible peer support.
No-cost treatment option for those who have financially limiting circumstances.
Further development of relapse prevention techniques.
Built-in level of accountability.
Opportunity to develop a circle of like-minded friends on a similar life path.
The 12 Step method of addiction recovery focuses on acceptance and personal accountability. It revolves around the discovery of a "higher power" — something (anything) to be reliant upon outside of self. Essentially, Alcoholics Anonymous and other 12 Step programs combine self-help and spirituality with peer support. They allow those who are new to sobriety the opportunity to learn from others who have been in a similar place while working through the wreckage of the past. Immersion Recovery Center offers clients a unique 12-Step immersion experience, combining traditional behavioral therapy with holistic treatment methods and a thorough education on the 12 Steps of Alcoholics Anonymous. Clients work directly with a 12 Step Mentor — someone who has previously been through the steps and has maintained sobriety for a prolonged period of time. To learn more about our multi-staged program of recovery, contact us today.
The History of Alcoholics Anonymous
In 1935, a New York stockbroker and Akron, Ohio surgeon met, ultimately becoming the founders of Alcoholics Anonymous — a program that has helped millions of people across the globe overcome even the most grave cases of alcoholism. Bill Wilson and Dr. Bob had both fallen victim to severe cases of alcohol dependence, and individually overcame their chronic and potentially fatal conditions by focusing on a restoration of mental, emotional and spiritual health while "carrying the message" to other alcoholics. According to the official AA website, "In the fall of 1935, a second group of alcoholics slowly took shape in New York. A third appeared at Cleveland in 1939. It took four years to produce about 100 sober alcoholics in the three founding groups.
Early in 1939, the Fellowship published its basic textbook, Alcoholics Anonymous. The text, written by Bill and reviewed by many of the early members, explained A.A.'s philosophy and methods. The core of this work is now well-known as the Twelve Steps of recovery. The book also included case histories of thirty recovered members. From this point, A.A.'s development was rapid." For the past 85+ years, people of all ages and walks of life have been utilizing the 12 Steps outlined in the Big Book of Alcoholics Anonymous to set forth on their own personal journeys of long-term recovery.
Our Drug & Alcohol Treatment Services Include
---
Is a 12 Step Program Right for Me?
There is an ample amount of stigma and skepticism surrounding the 12 Steps. Some people steer clear of AA entirely because of the misguided belief that the program is religiously rooted. People with harsh or traumatic religious backgrounds might be deterred by the belief that AA requires a person to believe in and pray to God. Others might base their beliefs about the program on the ways it has been depicted in film and television — a sad group of gray old men, chain smoking cigarettes in a church basement and complaining about their lives.
In reality, the 12 Steps simply outline a more moraled way of living. They help people who have been struggling with alcoholism and drug addiction come to terms with the fact that they are afflicted with a condition of the mind and body completely outside of their control. The Steps encourage newly sober individuals to take a look at their actions, to make amends whenever necessary, and to let go of resentments that might be keeping them stuck in a vicious cycle of substance use. How do you know if a 12 Step program is right for you? Look at it this way — no one's life has ever gotten worse because they decided to get sober and commit to personal growth. We encourage our clients to give AA an honest try, and make up their own minds once they have started to do the work.
The Importance of Multiple Treatment Approaches
For many, AA serves as an important component of an integrated treatment program. Down the line, many of our past clients find they are able to maintain sobriety using a combination of 12 Step program involvement and continued therapy. However, in order for treatment to be initially effective, it is important that 12 Step programs are combined with other effective treatment methods. At Immersion Recovery Center we have developed a comprehensive program that takes all of the principles for effective addiction treatment into careful account.
Medical Detox
Clients begin their recovery journey in the medical detox portion of our program, where they undergo a safe, pain-free drug and alcohol withdrawal. Once a client has been physically stabilized they will transition into the residential inpatient portion of the program. Here, they will have access to a wide range of effective treatment services, from therapy to relapse prevention training.
Individual Therapy
Individual therapy is an extremely important part of the overall recovery process. In individual therapy sessions a client is able to delve deep into any unresolved trauma or other underlying issues, working with a licensed therapeutic professional in a collaborative setting. Many clients find individual therapy useful when it comes to identifying the underlying causes of their substance use disorder.
Group Therapy
Most effective treatment programs place a strong emphasis on group therapy and group workshops. At Immersion Recovery Center our group therapy sessions focus on a wide range of recovery-related topics, from the development of healthy communication skills to addiction education. We also offer a range of holistically focused group workshops, including mindfulness meditation, yoga therapy, art therapy, and acupuncture.
Ready To Begin Your Drug & Alcohol Treatment?
Let Us Help Your Family Heal
Our family therapy program is second to none.
Learn how we can help your family by calling a Treatment Advisor now.
Medication Assisted Treatment
While medication assisted treatment, or MAT, is not right for everyone, it can be beneficial to those who have been struggling with a life-threatening opioid use disorder. Suboxone maintenance can help keep a person away from heroin, prescription painkillers, or synthetic opioids for long enough to begin healing on a mental and emotional level. MAT is a short-term solution and should always be combined with other treatment methods in order to be truly effective. At Immersion Recovery Center we do not offer ongoing MAT, but we provide certain medications during the detox portion of our clinical program.
Relapse Prevention Training
Relapse prevention is essential to the maintenance of long-term sobriety. In relapse prevention training courses, clients learn to identify and work through potential relapse triggers. They develop a set of skills they can utilize at any time and anywhere. Relapse prevention begins during the inpatient portion of our treatment program and continues through IOP and aftercare.
Life Skills Training
Active addiction strips people of the ability to function at the most basic level. Many individuals who struggle with addiction have a difficult time holding down a job, paying bills, keeping up with housework, maintaining healthy relationships, and engaging in any level of self-care. Life skills training sessions teach clients how to function and thrive once they transition back into fully independent living.
Aftercare Planning
In order for a person to be successful once they transition out of treatment, they must have a solid and individualized aftercare plan in place. Most aftercare plans include a continuation of 12 Step program involvement along with individual therapy and any psychiatric services that might be necessary.
Begin Healing Now!
Have A Call With One Of Our Treatment Advisors
Caring & Experienced Staff

Fully Licensed & Accredited
Contact Us Today to Learn More
If you or someone you love has been struggling with a substance use disorder and is interested in getting sober, Immersion Recovery Center is available to help. Our program of recovery combines traditional therapeutic approaches with innovative holistic treatment methods and the 12 Step program of Alcoholics Anonymous. Unique and effective, our carefully developed program caters to the needs of each individual client. The moment you reach out for help you will be put in contact with a compassionate and knowledgeable Treatment Advisor, who will walk you through our simple and straightforward admissions process. We begin by conducting a brief pre-assessment over the phone which helps ensure that our recovery program is an ideal fit for you. If we believe you would benefit from a different set of treatment services or a different type of care, we will point you in the right direction. Next, we offer a free, no obligation insurance benefit check and help organize local ground transportation to our Boynton Beach, Florida treatment center. Contact us today to learn more and to begin your own personal journey of addiction recovery.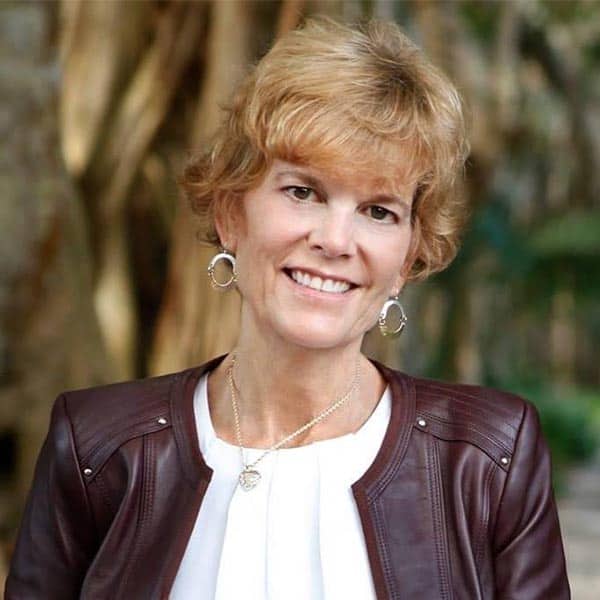 Reviewed for accuracy by :
Serving as the Inpatient Clinical Director at Immersion Recovery Center, Susan will work directly with staff members, clients, and family members to ensure the clinical program remains as effective and individualized as possible. Susan is no stranger to the fields of behavioral health and addiction. She has over 25 years of experience, working in an inpatient setting, an outpatient setting, acute stabilization and nearly all other settings in the realm of addiction recovery.